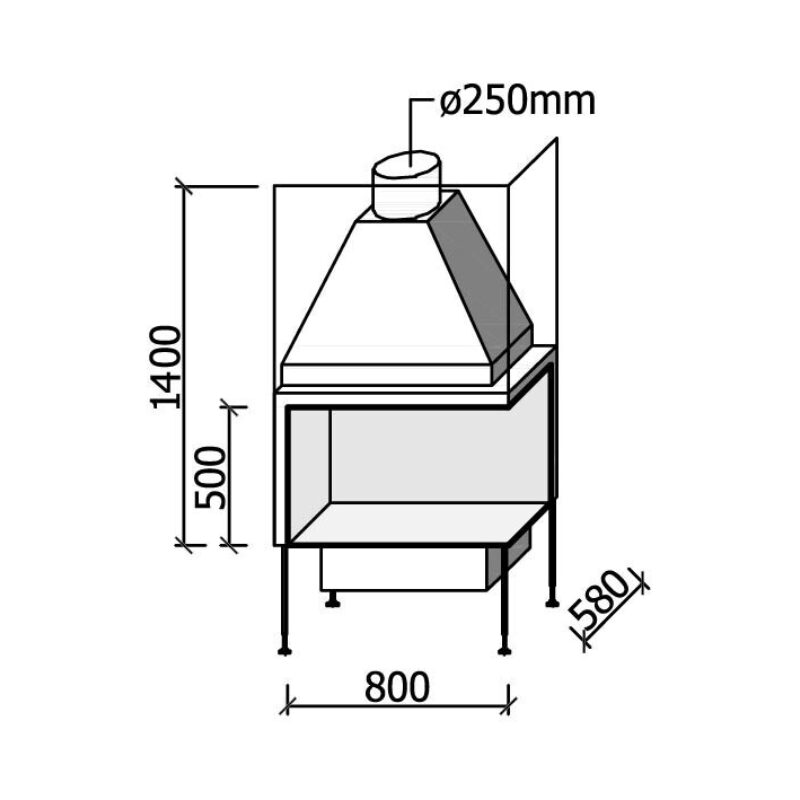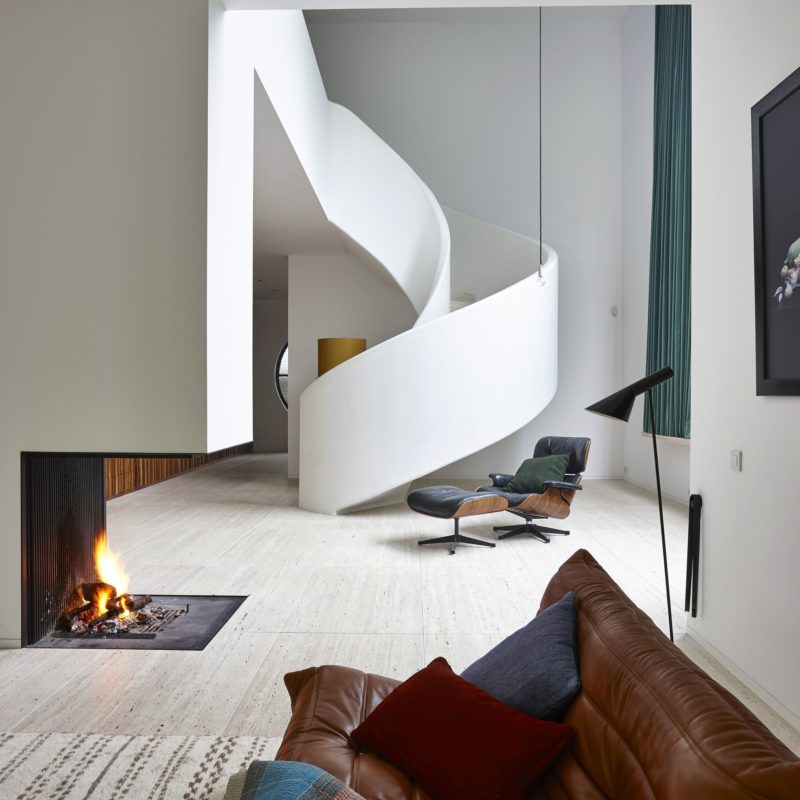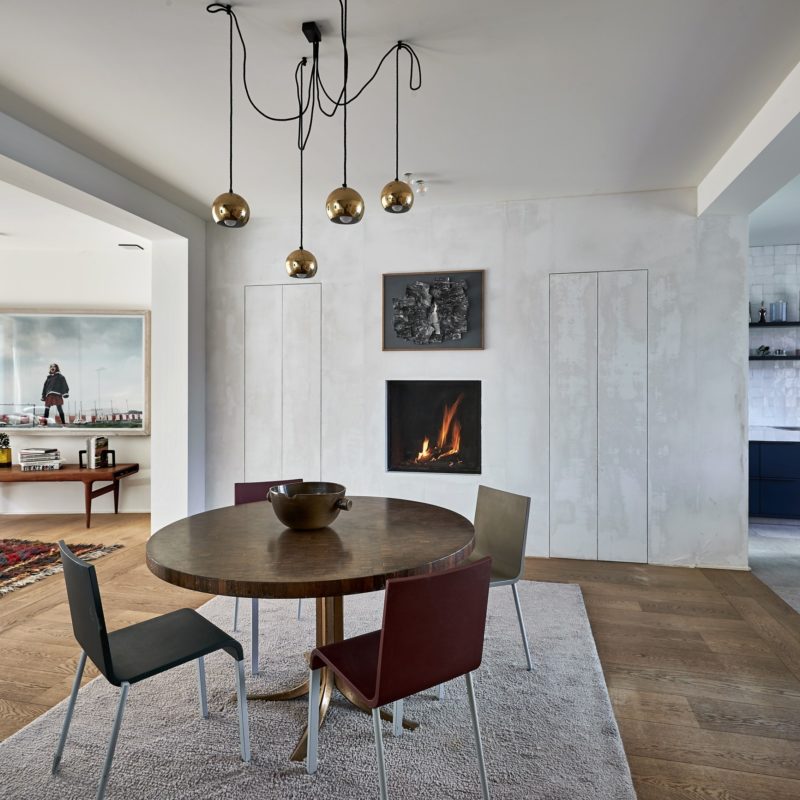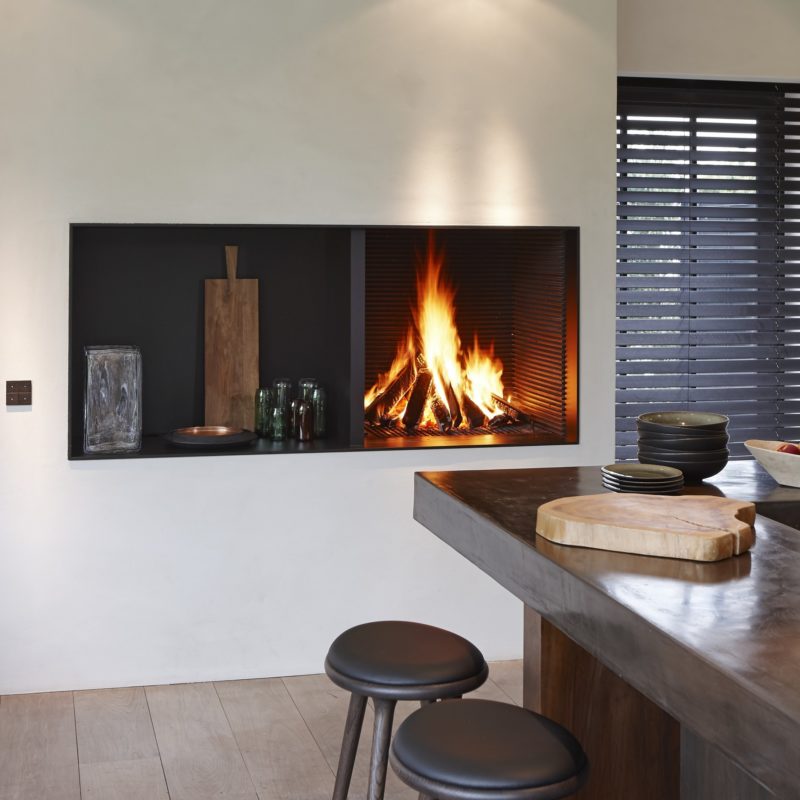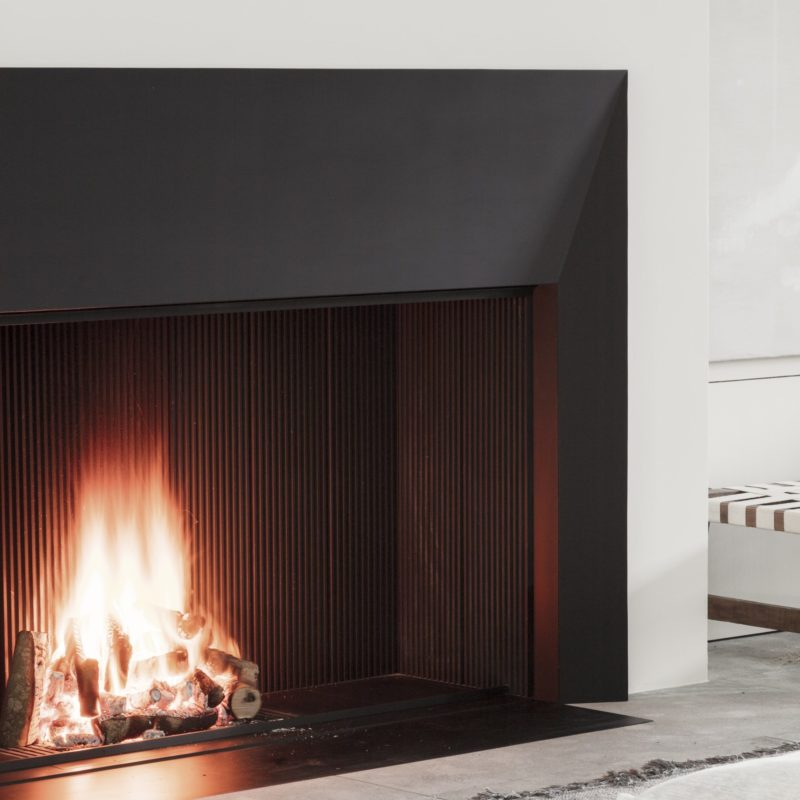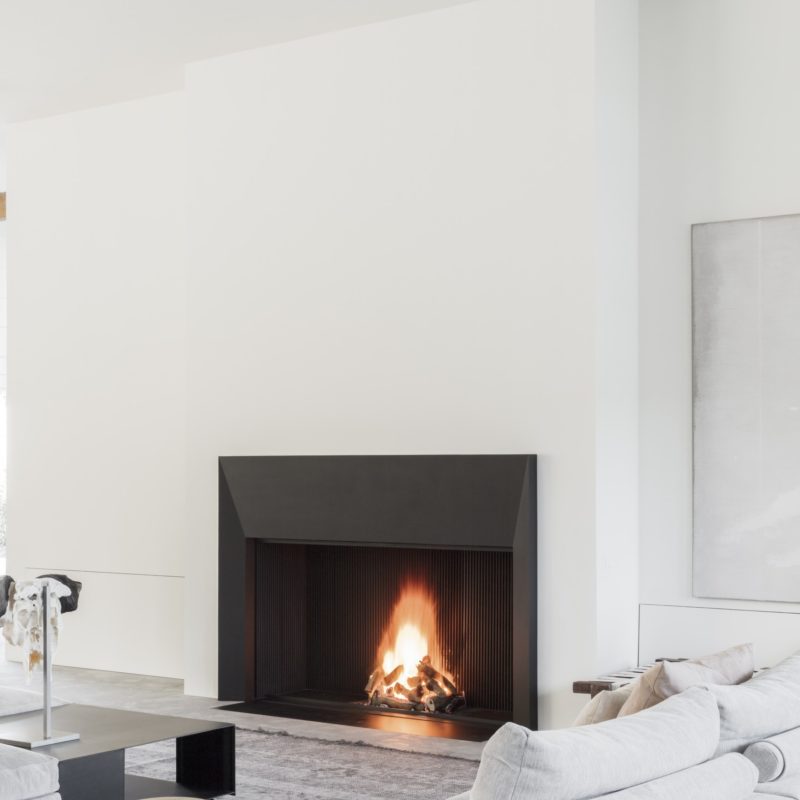 Details
Finishes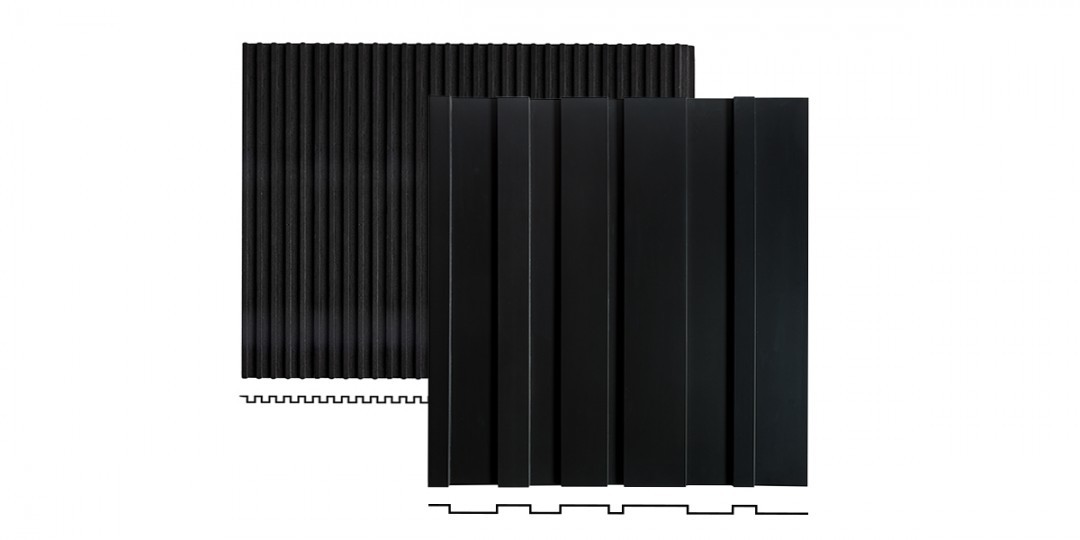 Interior finishing
Original | Design
Vertical ribbed cast iron slats (20mm)
Asymmetrical steel slats (10mm)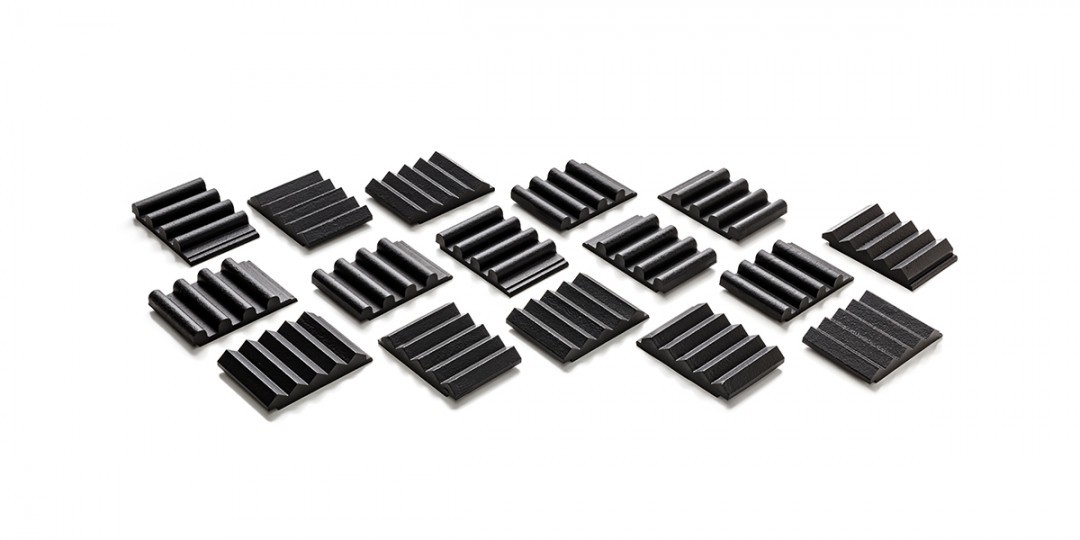 Interior finish 2021
Similar to the Original vertical cast iron ribs, the new Triangle and Round finishes ooze minimalism.
However, whilst carrying on Metalfire's love for pure and simple design, these innovative additions do add a certain dynamic to our range.
The Triangle cast iron ribs offer a more angular approach to the fireplace's interior, whereas the Round cast iron ribs - based on a design by Belgian architect Benoit Viaene - are characterized by soft curves.
Common denominator: the elegant rhythm in both surfaces, which creates an interesting dialogue with the warm light of the fire.
Irrefutably, both Triangle and Round are sleek and finely crafted finishes that will blend in seamlessly while simultaneously standing out in any (fireplace) interior.
MF 800-50 W 2S L/R
Universal
These traditional wood-fired open fireplaces are chosen for their aesthetic impact in the room, the large dimensions, the minimalistic construction of their parts, and the fact that they can be made entirely to measure. This means that there are endless possibilities for dimensions, style and finish. For houses built according to the latest building regulations, an additional flue gas fan and electrically operated sealable valves make this combination perfectly possible and safe.
Specifications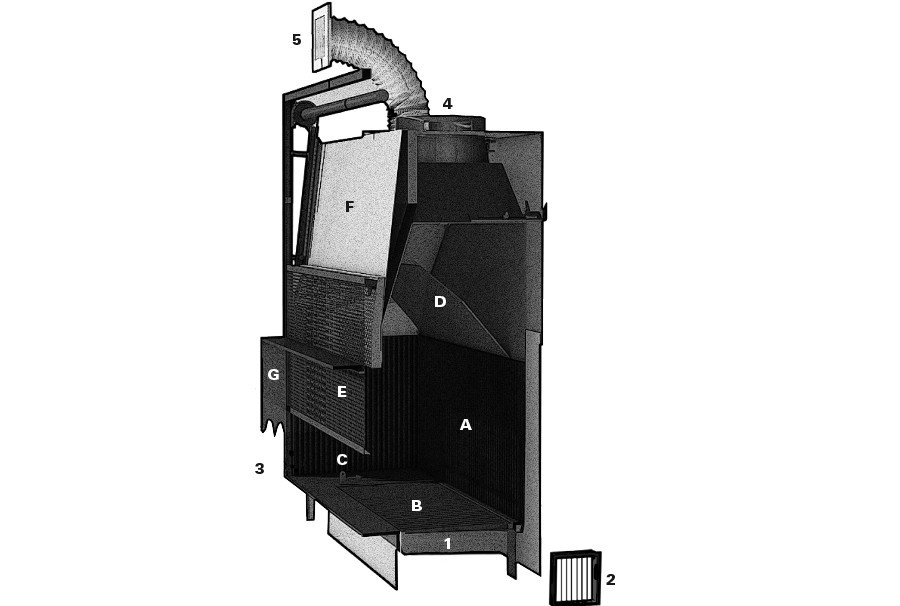 Universal open wood-fired fireplace
Supplies
fresh air supply via concentric flue system
supply of ambient air/convection air
primary air supply/combustion air
flue gas discharge
emission of heated convection air/recovered heat
Characteristics
A. combustion chamber with ORIGINAL finish (vertical ribbed cast iron slats). The DESIGN finish is also available.
B. bottom plate in 10 mm flat steel with ashpan and cast iron grate
C. manually operated handle for closing the flue gas valve and ventilation valves
D. adjustable flue gas baffle plates
E. sliding spark screen
F. optional convection chamber for outflow of hot air
F. optional finishing frame in 10mm solid steel
Spark screen
Using the folded-back edge, the spark screen can easily be moved up and down manually.
The spark screen is designed to prevent sparks and incandescent particles from reaching the floor.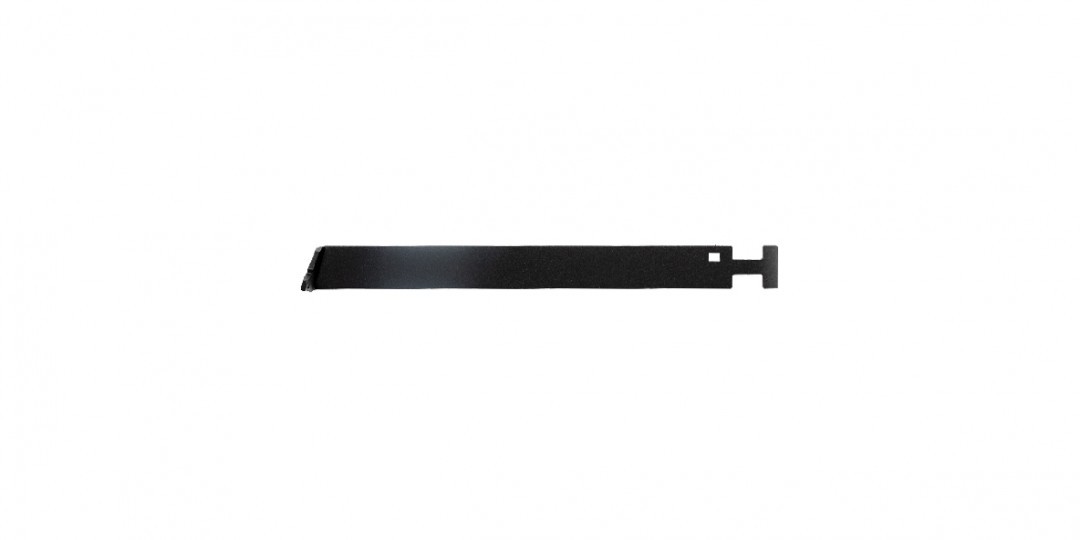 Removable handle
This is supplied as standard for setting the combustion air supply and the flue gas valve. The reverse side of the handle can also be used for moving the grates.
This is necessary when emptying the ashpan, which must be done regularly to maintain an optimal supply of combustion air.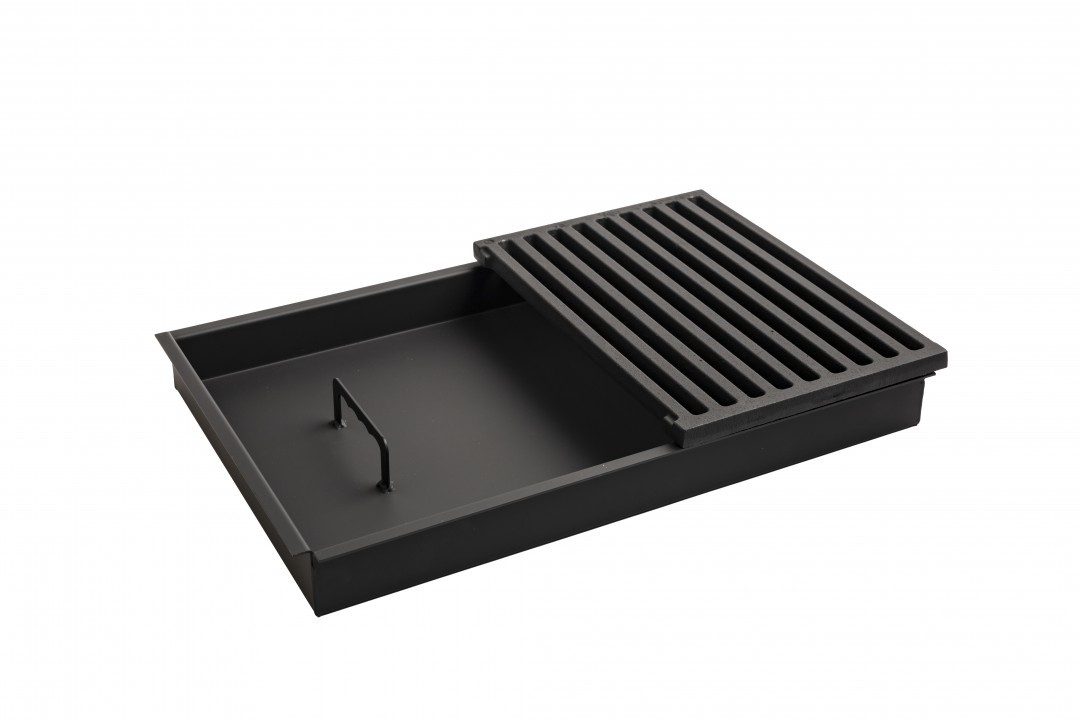 Grate + ashpan
The cast iron grate is particularly attractive, and creates a real "fireplace look". The slots in the grate allow ash to fall into the ashpan.
The ashpan itself can be easily cleaned by removing the grate and vacuuming the ashes using an ash vacuum cleaner. Alternatively, the ashpan can be removed from the fireplace for cleaning in another way.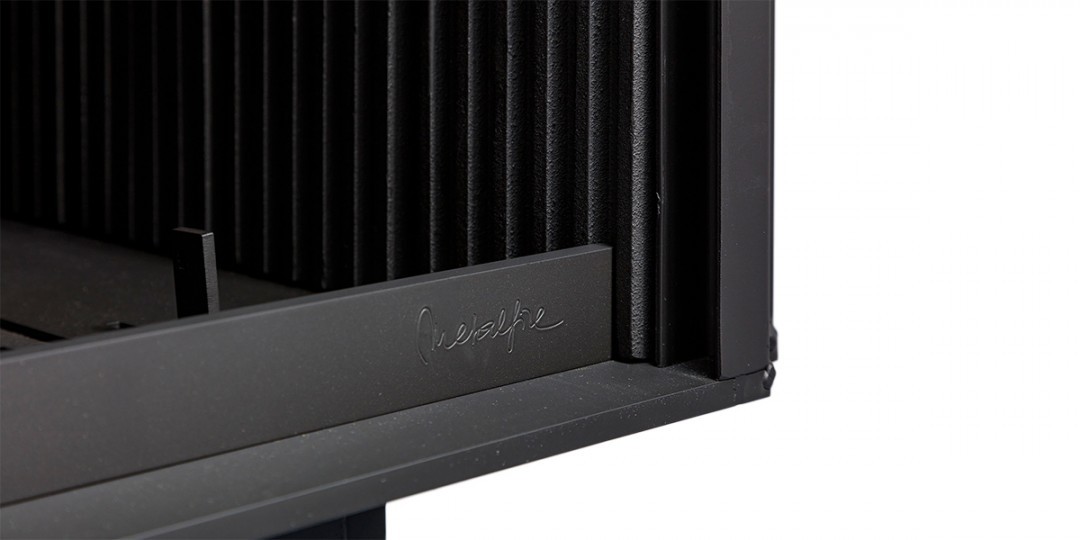 Fire fret
Universal models are fitted as standard with a fire fret. This ensures that coals or burning wood stay well within the fire when used with an open door.
Fuel: Wood
To obtain optimal combustion, the moisture content of the wood should be no more than 15% If this is not the case, the glass will quickly become soiled and appliance will be less efficient.
To achieve this moisture content, the wood must be dried for two to three years in a dry well-ventilated place. The most suitable wood types are beech, oak and birch.
Each of our fireplaces has an ooptimal wood load: for Universal models this is a maximum of four 30 cm logs. Lay the logs alongside each other in the fireplace.
The use of resinous wood types, chipboard, laminate, treated wood or accelerants is strongly discouraged, as it produces sparks and a short burning time.
It also harms your fireplace and the environment.