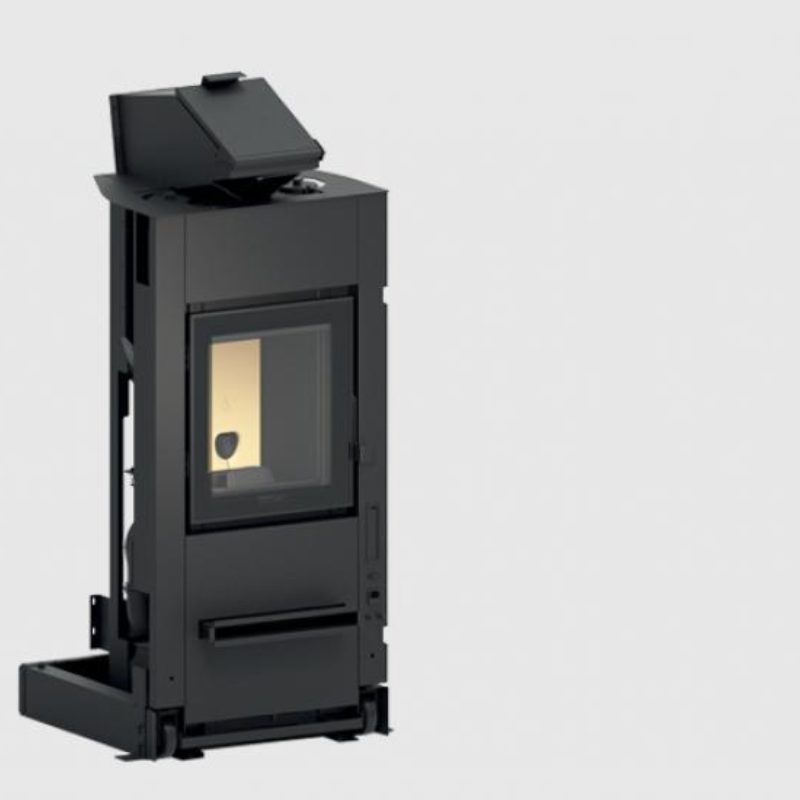 Technical data
| | MP 980 | MP 980-S |
| --- | --- | --- |
| Energy efficiency class | NA | NA |
| Rated output | 4 - 12 kW | 4 - 12 kW |
| Efficiency | 88,1 - 90,7 % | 88,1 - 90,7 % |
| Heatable volume | 200 - 345 m³ | 200 - 345 m³ |
| Pellet consumption | 0,9 - 2,7 kg/h | 0,9 - 2,7 kg/h |
| Tank capacity | - | - |
| Ø Flue outlet | 8 cm | 8 cm |
Product weight: 180 kg
Product measures (LxPxH): 60,5 x 68 x 133,5

Downloads
MP 980
One-piece Firebox MP 980 for Pellet Fireboxes
MP pellet firebox, characterized by convenience, ease of use, and easy maintenance. The design is linear and the special construction guarantees considerable flexibility with installation.
The efficiency of pellets
Performance and savings, the optimum solution for bringing warmth to the home.
Dual motor for ventilation
The forced ventilation provided by the Dual Power System distributes a flow of hot air to various rooms via a room ventilation dual motor. The flow capacity of the combined fans can be modulated separately, based on the length of the ducting system. The temperature can be set separately in the living area and in the sleeping area.
Ducting with the Multifuoco® System
The Multifuoco System® allows you to maintain an even room temperature, thanks to natural convection currents. It avoids the layering of heat near the ceiling and ensures heat at floor level (our feet). Via a simple ducting system, consisting of small-diameter, flexible pipes, you can also heat other rooms in the house, even on different floors.
For perfect comfort in more than one room
The convenience of a pellet appliance lies in its easy regulation using electronic management. The Multicomfort feature enables you to measure the heat level in the room where the remote control is located with its thermostat, and consequently to adjust the flame power so as to reach your ideal set temperature.
Main features

Multifuoco ducting
Dual power
Multicomfort
Steel
Cast iron firebox
Fuel level sensor
Steel brazer
ECO
Energy saving
High autonomy

Optional

Pellet loading kit
Rear flue outlet
Flue side
External air kit
SMS-APP
Vacuum