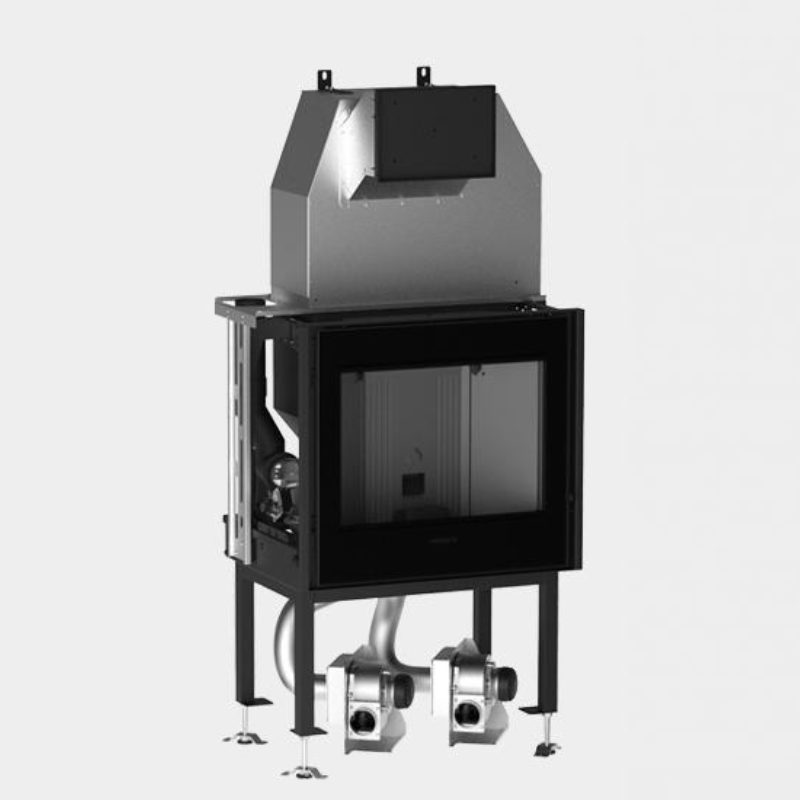 Technical data
| | MP 7 CON CASSETTO E KIT RIALZO REGOLABILE | MP 7 CON CARICAMENTO FRONTALE E KIT RIALZO REGOLABILE | MP 7 CON CARICAMENTO ORIENTABILE E KIT RIALZO REGOLABILE | MP 7 CON CARICAMENTO DESTRO O SINISTRO E KIT RIALZO REGOLABILE |
| --- | --- | --- | --- | --- |
| Energy efficiency class | A+ | A+ | A+ | A+ |
| Rated output | 3 - 7 kW | 3 - 7 kW | 3 - 7 kW | 3 - 7 kW |
| Efficiency | 87,4 - 88,3 % | 87,4 - 88,3 % | 87,4 - 88,3 % | 87,4 - 88,3 % |
| Heatable volume | 120 - 200 m³ | 120 - 200 m³ | 120 - 200 m³ | 120 - 200 m³ |
| Pellet consumption | 0,8 - 1,6 kg/h | 0,8 - 1,6 kg/h | 0,8 - 1,6 kg/h | 0,8 - 1,6 kg/h |
| Tank capacity | 8 kg | 35 kg | 15 kg | 45 kg |
| Ø Flue outlet | 8 cm | 8 cm | 8 cm | 8 cm |
Product weight: 115 kg
Product measures (LxPxH): Vedi la scheda del prodotto

Downloads
MP 7
A pellet mounted firebox on rails. Perfect for first time installations or installed into an existing structures. Remote control with LCD display and with the Multicomfort function, digital command panel.
Piazzetta's MP 7 is the new pellet-burning fireboxes mounted on rails for an easy extractable loading system, therefore there is no need for any inspection port and any side or front-loading applications. Perfect for first time installations or to be installed into an existing structure just by the removal of the base. Forced air via the Multifuoco System Dual Power, which is placed into a separate tech compartment. Vast range of accessories to extend its autonomy.
The efficiency of pellets
Performance and savings, the optimum solution for bringing warmth to the home.
Sliding rails
Piazzetta inserts are equipped with sliding rails which make them easy to extract. They guarantee maximum ease when loading pellets into the tank and during maintenance.
High load capacity
The following elements are available for longer working autonomy: upper tray filling kit that avoids having to switch off and extract the insert, and a supplementary tank kit for extended operating autonomy.
Ducting with the Multifuoco® System
The Multifuoco System® allows you to maintain an even room temperature, thanks to natural convection currents. It avoids the layering of heat near the ceiling and ensures heat at floor level (our feet). Via a simple ducting system, consisting of small-diameter, flexible pipes, you can also heat other rooms in the house, even on different floors.
Main features

Remote control LCD
Obb. extra hopper kit
Obb. pellet drawer
Brazier and firebox in Cast iron
APP WI-FI bluetooth
Programming
Rolling firebox
Multicomfort
Digital display
Multifuoco ducting
Steel
Vacuum

Optional

External air kit
Pellet loading kit
Flue side
Vacuum